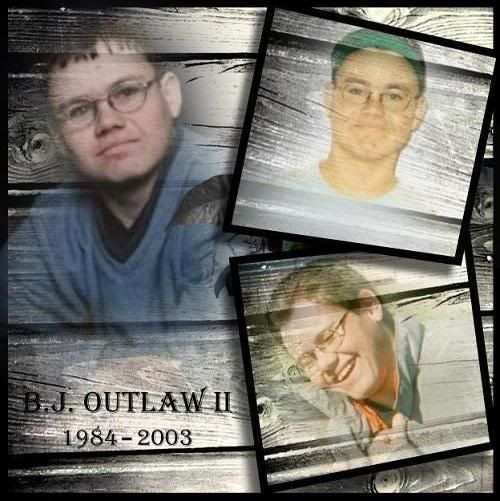 Oh how we miss you!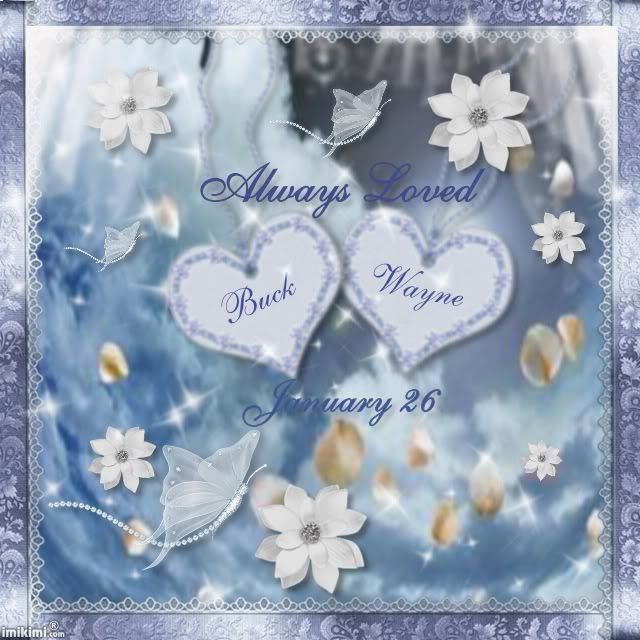 Forever loving and missing my boys...
"B.J."
"Wayne 'n Buck"
Still So Hard To Believe...
I still find it so hard to believe
That you really went away.
How could it have happened?
Why weren't you allowed to stay?
Why did it have to be your time
To tell us all goodbye?
Why did your little body stop?
Why did you have to die?
Oh B.J. didn't the Lord know
What it would do to me?
I find it so hard to accept,
The good I just can't see.
It's been so long since I've seen your face
And held you close to my heart.
The days have turned to years now,
That we've had to be apart.
I miss you more with each passing day
There's just no words to explain.
How can your Mama continue on
Living with all this pain?
The Lord has got to help me
It hurts so very much.
Please tell Him that I need Him now
I need to feel His touch.
B.J. also has a memory site at
http://bobby-outlawii.last-memories.com

This Memorial website was
created in the memory of our beloved son and brother
Bobby J. Outlaw II. B.J. was born on May 17, 1984 in Ft.Worth Texas. He passed away on Dec. 1, 2003 in Waco Texas at the young age of 19 yrs. He was still living at home with his family in Goldthwaite Texas when Jesus called him to his new home in Heaven.
We will love, miss and remember him always.
B.J. was the best son, brother and friend that anyone could ever ask for. He was loved by everyone that knew him and he brought such joy to us all.
B.J. has three sisters. Amanda is his older sister by one year, Kayla is three years younger than him, and then his youngest sister is Sarah who is nine years younger than him. B.J. has three little brothers, Wayne and Buck (twins) with him in Heaven, and his youngest brother is Johnathan who is seventeen years younger than B.J. "Uncle B.J." has two nephews. One name Elijah born to his siter Amanda on September 2, 2006 that he never got the chance to meet in this lifetime and his newest one little Mikey born to his siter Kayla on July 31, 2009.
Then there is his Mama & Daddy that loves him more than life itself and misses him more than words can express. Our hearts will forever be broken since the Lord called B.J. home.
He lived his life here on earth "for the Lord" and now he will live his eternal life "with the Lord."


B.J. LIVED, HE DIED, AND NOW HE WILL LIVE FOREVER!
What a day of rejoicing it will be when we join him!

B.J. is sharing this memory site with his two baby brothers Billy "Wayne" Outlaw and Charles "Buck" Outlaw that were born 3 1/2 months too early on Jan. 26, 1986 and did not survive. Though we did not get to know them like we wanted to, they have always been and will always be very much a part of our lives. We will love and miss them forever. How we long for the day that we get to hold them in our arms for the very first time.
Until we do, big brother B.J. is helping Jesus take good care of them for us. We know they are getting the best of care.

Jan.26,1986 ~ Jan.26,1986
BOBBY JACK OUTLAW II
MAY 17,1984 - DEC. 01,2003

I HAVE FOUGHT A GOOD

FIGHT, I HAVE FINISHED

MY COURSE, I HAVE

KEPT THE

FAITH.

B.J. you did fight a good fight and you kept the faith like no one I've ever known. You lived life to the fullest and made the most out of every breath you took.
Completeness of a life is not measured in length only, it is measured in the deeds and commitments that give a life purpose.
Your life held much purpose B.J. You may not have changed the world...but you sure changed the world for me.
Love, Mama
You Should Be Over "IT"...But What Is "IT"?

It's been a year, you should be over it. What exactly is "IT"? But do people who have never suffered loss really know what "IT" is? To us, the bereaved...

"IT" is five days after the funeral, and your world caves in with reality of the loss.
"IT" is Thanksgiving Day. trying to find something to be thankful for.
"IT" is Christmas without the merry, and New Years without the happy.
"IT" is your first day back to work when every minute you are afraid you will burst into tears.
"IT" is their birthday, but there is no them to celebrate.
"IT" is Valentine's Day, only this time no hearts and flowers to share with them, and your heart is broken.
"IT" is your birthday, and there is still no them to celebrate it with.
"IT" is springtime when everything comes alive except you, that is.
"IT" is Easter and everyone is singing "Let us Rejoice and be Glad" but there is no rejoicing and no glad in your heart.
"IT" is Mother's Day and you sadly remember how happy being a mother made you feel, or how you rejoiced with your spouse over the birth.
"IT" is Father's Day and you sadly remember how happy being a Father made you feel, or how you rejoiced with your spouse over the birth.
"IT" is the 4th of July and the celebrations remind you just how little you feel you have to celebrate now.
"IT" is vacation time and you just stay home, because there is nowhere to go to not feel so empty.
"IT" is Halloween and you pass out candy, but you remember all the memories of past happy times together and make you sad.
"IT" is seeing milestones in your life progress and pass and your loved one is gone, never to share them with.
"IT" is looking at the moon and wondering if they see the same moon like the two of you always did in the past.
"IT" is receiving the first wedding invitation to their friend's wedding and knowing that life goes on without your loved one. "IT" is going back into that church for the first time and remembering, but not remembering and feeling that all eyes are on you.
"IT" is going to another funeral for the first time and feeling yourself shaking all over, too distraught to stay, but unable to leave.
"IT" is doing all the things you always did, plus all the things you had hoped to do together, and doing it all when all of your energy has been used for grieving.
"IT" is being strong when you really feel weak.
"IT" is dealing With all the legality of estates and such when all you want to do is hibernate .
"IT" is a whole big bunch of stuff you didn't ask for, didn't want and can't even give away.
"IT" is going to the cemetery and seeing the monument with their name or even face. and it hits you in the face that THlS IS REAL!
"IT" is feeling like a traitor when you get rid of their personal belongings.
"IT" is approaching the first anniversary of their death and reliving it all-oh yes, some things might be better but the void is no less.
"IT" is people forgetting and you cry, and people remembering and you cry.
"IT" is a future of unknowns and uncertainties and emptiness. "IT" is in the first glimpse of sunrise and in your last waking breath, and even finds ways to creep into your sleep and your dreams ...
So maybe when someone tells you that you should be over "IT" by now, you should just tell them what "IT" really is!

Beginning here I am going to share special memories of B.J. I hope they bring a smile to all that sees/reads them.
B.J. you lived such a good life...one that we're so very proud of you for. You were loved by so many and I know you made such an impact on so many people. You may not have changed the World for Everyone...but you sure changed the World for me! You'll be loved and missed forever!
We received a beautiful gift when we were blessed with B.J. He was born on May 17, 1984 in Ft. Worth Texas. We gave him the name Bobby Jack Outlaw II after his Daddy. How blessed we are to have had him with us for as long as we did.
This was taken on B.J.'s first Christmas. He was 7 months old here. I've always thought he looked like the little bug that him and his sister Amanda are riding on. LOL Just look at his little round face and chubby cheeks!
When B.J. was about a year old I found him playing with a dead mouse! Thank God it wasn't wet with slobbers!
One time when B.J. was just about a year old we were living in a trailer house (not a little one like this...I just thought this one was kinda cute) and I left him and his sister Amanda that was 2 years old together in the house while I went outside and hung laundry out to dry. Well in just a minute Amanda decided to follow me out there. That would have been alright except that left B.J. all alone and he played with the door latch on the glass front screen door and got it to lock. He was too little to know how to unlock it so we were locked out! I had to take Amanda around to a bedroom window and lift her up through it so she could go unlock the door. Thankfully she understood what I wanted even though she was only 2 at the time! Trust me...we didn't let that happen anymore. LOL
When B.J. was little he wasn't impressed at all with Santa. This picture was taken when he was 2 years old and he was sitting on Santa's lap. You can tell by the look on his face it wasn't where he wanted to be!
When B.J. was little he had this little baseball cap. He loved it! He would wear it all the time. He would even wear it to bed and I would have to wait until he went to sleep to take it off of him.
I guess the first snow B.J. ever got to enjoy was when he was 3 years old. It wasn't much but him and his sister Amanda was able to build a couple of little snowmen about one foot tall. I guess when you're a kid it just doesn't take a lot to make you happy.
When B.J. was about 4 years old we were all outside and I heard him yelling. When I went to see what was wrong he said...That snake licked my boot! Sure enough there was a snake there and I guess it must have stuck out its tongue just as B.J. walked up on it and he thought it was licking his boot.
When B.J. was little he didn't have a lot of energy to run and play like most kids do because of his kidney disease. But he was such a smart little guy. He spent much time reading books and working on puzzles. He loved both. He was quick at putting puzzles together. He had great eye hand coordination and a sharp mind. He could work puzzles that were way beyond his years. He use to love to have us time him and see how fast he could put them together.
When B.J. was just a little guy we had a Ford Bronco. The transmission went out on it and Bobby (B.J.'s Dad) put in a new one himself. Well B.J. being his Daddy's little helper wanted to help him work on it. So his Dad got under it and made all the bolts just loose enough that B.J. could turn them and he got under there and took every one of them off for his Dad. I remember how big it made him feel getting to help. And the cool part is...he really did help!
Many hours were spent playing with the little Red Barn and animals. When B.J. was a teenager he finally got rid of it but I still have the little horse. I'll never get rid of it!
B.J. loved his Army Airplane. He always kept hanging from a string in his room even after he was grown. Now it hangs in his little brother Johnathan's room and tends to "peg" me in the head when I go in there at night to check on him while he's sleeping. I can just hear B.J. chuckle everytime it does!
When B.J. was 4 years old we dressed him up as a scare crow for Halloween. I made his little costume for him. We also let him enter the costume contest where his sister Amanda was in kidergarten. He won 1st place!
B.J. loved cows when he was little. I remember he went through a time that he wanted anything we could find that had even a picture of a cow on it.
This is a picture of B.J. the year before he started school. You can tell he wanted no part of having his picture made. And when the next year rolled around...he wanted no part of going to school. The poor little guy didn't like school until he was about two months into the second grade.
When B.J. was in Kindergarten him and his sister Amanda were playing and he tripped her and when she fell down she got a tooth knocked out! "OUCH" She never did forget it either!
The Christmas Eve that B.J. was in Kindergarten we had been somewhere and were on our way home after dark. We told the kids we had to hurry and get home so they could get to sleep so Santa Claus could come. We looked up in the sky and there was an airplane going over and it had a red blinking light on it. You couldn't see the plane...just the light. We told the kids it was Santa's sleigh and that was Rudolph's nose blinking. It was too fun because they believed us. We kept telling them to hurry and go to sleep when we got home but they were so excited over seeing Santa's sleigh and the fact that he was on the way they had a hard time falling to sleep.
B.J. use to sing this little song in church when he was little. He sounded just too cute!
I'm Not Super Man
I got freckles on my nose and holes in my shoes
The wrong color clothes and a missing tooth
I'm not Super Man...God made me the kid that I am

I thank you Lord for who I am
I don't have to be a Super Man
I thank you Lord for who I am
I just want to be Your best friend.

Sometimes I trip and fall on my knees
I got skins and bruises all over me
I'm not Super Man...God made me the kid that I am

I thank you Lord for who I am
I don't have to be a Super Man
I thank you Lord for who I am
I just want to be Your best friend.
I never grew tired of the flowers B.J. picked for me. I remember most of them were just the flower with no stem and everyone of them were so sweet!
We lived on a ranch that had a horse when B.J. was little and one day we got out there riding him. I was scared of horses but I rode it with B.J. He was expecting me to be in charge and take him for a ride. That crazy horse started running and all me and B.J. could do is hang on and go with it. The horse was the one that was in charge...not me. B.J. never would ride that horse with me again!
In all of B.J.'s life I only seen him really mad just a few times. The first time was when he was in Kindergarten. He and his Daddy were play fighting and it got a little too rough and B.J. ended up getting hurt. It made him some kind of mad. He wasn't big as a minute but he was as mad as a hornet at his Daddy. He grabbed up a curtain rod he found laying around and went after his Daddy with fire in his eyes. I had to grab hold of him and let his Dad get outside until B.J. could cool off. It was really funny cause he was a lot madder than fit his size and I was afraid just what kind of damage he would do to his Dad if he got that curtain rod to make connection with him!
B.J. Graduated from Kindergarten in the big town of Valentine, Texas.
B.J. always wanted a burr cut when he was little and I finally gave in and let him have his first one the summer he was 6 years old. Isn't he cute!?!
B.J. loved his buddy Brother Jimmy. He called him his son. He is one little guy I'll never get rid of. We had an Assistant Pastor at our church when B.J. was little name Jimmy Sellers. B.J. loved this man and when he got his buddy doll he named him Brother Jimmy after our Assistant Pastor. I remember one time B.J.'s Dad went in to tell B.J. good night and Brother Jimmy was laying there in the way and Bobby picked him up and pitched him off of the bed. B.J. got so upset and came unglued on his Dad. He told him "don't you ever throw my son on the floor again!" That was one of the very few times I ever saw B.J. mad. He was just a little guy but he was ready to take his Daddy down for mistreating his buddy.
Oh he would have made such a good Daddy!
Also one time when he was in the hospital (Brother Jimmy went with him to the hospital every time) we were in the ER and he would tell one nurse or doctor that his name was Bobby and his little friend was Jimmy. Then the next doctor or nurse would come in and call him Bobby and he would tell them "I'm not Bobby I'm Jimmy and point at his buddy and say that's Bobby". And so it went like that one time he was Jimmy and the next time he was Bobby. I finally had to make him stop because he was causing them to get frustrated. LOL
Another time he was in the hospital in the Intensive Care and there was another bed in there with no one in it and a curtain to pull closed around it. Well B.J. and I put Brother Jimmy under the covers in his bed and bunched the covers up to make it look like it was him. We covered Jimmy's head. Then B.J. got over on the other side of the room and pulled the curtain closed. When his dialysis nurse (a young man) came in to do his dialysis he found who he thought was B.J. in the bed with the covers over his head. Well I had this terrible look on my face because I was trying to keep from laughing and he thought something had happened to B.J. is why I could just look at him and shake my head when he asked what was wrong as he looked from me to the bed where Jimmy was under the covers. The poor guy nearly jumped out of his skin when he finally got brave enough to pull back the covers and saw B.J.'s black buddy there. Oh man it was too funny! B.J. jumped from behind the curtain and laughed like an idiot at him. I don't think he was just overly enthused with us but it sure was funny and he took it in stride. And to think B.J. was sick enough to be in Intensive Care!
Poor little B.J. By the time he was 7 years old his little hip was giving him so much trouble. It wouldn't swivel so he wasn't able to ride a bike anymore. He had already learned to ride but had to stop. Well after he got out of the hospital we bought all the kids new bikes for Christmas the year he was 8 years old. B.J. had to use the training wheels on his because he could only push down on one pedal at a time and couldn't keep his balance. Poor little guy would hit the inside of his little knees on the middle bar over and over again and just kept them bruised up all the time. Oh but our little boy would not give up. He rode that bike up and down the alley until he got it to work for him and he learned to ride without the training wheels again. He was so proud of himself and we were proud of him too!
When B.J. was little probably around 8 years old he use to sing this little song in church all the time. It goes like this...
I can't even walk without you holding my hand.
That old mountain's too high.
That old valley's too wide.
Down on my knees where I learn to stand.
I can't even walk without you holding my hand.
We had it sang at his funeral too...so fitting for him.
B.J. gave me this card when he was just a little guy. I had always told him he was my Best Buddy in the Whole World. It looks as though he liked that idea pretty good...
On April 7,1992 when B.J. was only 7 yrs. old the Lord filled him with the baptism of the Holy Ghost with the evidence of speaking in tongues. Then on August 16,1992 B.J. was baptized in the name of Jesus for the remission of his sins! Bro. David Mullins baptized him in our horse trough baptismal tank at the Goldthwaite Evangelism Center UPC.
Thank you Bro. & Sis. Mullins for the big part you both played in helping make sure B.J. made Heaven his Eternal home.
B.J. made this Jesus plaque in Sunday school when he was 10 years old. It was a gift to his Mom and Dad for Christmas. We loved it and it was extra special because he made the U upside down. We could have pulled that little piece of wood off and fixed it but we loved it just the way it was. We still do!
This is a Mother's Day card I got from B.J.
This is another Mother's Day card I got from B.J. I remember getting these cards like it was yesterday. He made the first one in Sunday school and the other one he made at school. He was still nine years old when he made them...right before turning ten.
B.J. made this plate for me in school for Mother's Day in 1993 right before he turned 9 years old. I still have it and take it out and use it every now and then. It's a priceless gift I will treasure forever!
One night when B.J. was around 10 years old everyone was in bed and I heard a noise in the kitchen so I got up to see what it was. When I got in there no one was around but the jug of milk was sitting in the floor in front of the refrigerator. I walked down the hall just in time to see B.J. getting back into his bed. He had been sleep walking!
The only dog or for that matter the only pet B.J. ever owned was a little black and white dog he proudly named "Beethoven" after the movie Beethoven. Oh how he loved that dog! We had him for a good while and then someone we think poisoned it. It just got sick and was gone before we could even try to do something for him. It made B.J. sad but he sure enjoyed his dog while he had him.
The year B.J. was 9 years old all he wanted for Christmas was a new toolbox. He never was one to ask for a lot but he really wanted a toolbox that year. Well we got him one but we didn't wrap it and put it under the tree because we knew he would know what it was and we wanted to surprise him. So we wrapped a Mac & Cheese box instead with a note in it telling him to go look on his bed. When we got the kids all into the living room to open the presents I went and put the toolbox on his bed. We could tell as he was unwrapping his gifts that he looked so sad but wouldn't say anything about his disappointment. When he opened that Mac & Cheese box and read the note the look on his face was priceless! He jumped up and ran to his room and the next thing we know he's yelling and running back to the living room with the look of sheer joy on his face! He was so excited he forgot to bring the toolbox with him. LOL Our little boy was so happy. He never did get rid of that toolbox. I'm so thankful for such sweet memories of my Buddy.
B.J. had to use a wheel chair for about 3 years when he was little because his legs were just too weak. He could still walk in the house but if he went anywhere he had to ride in the wheelchair and he used it for school...it was just too hard on his little legs. Part of his physical therapy was to climb the stairs going up our back porch. The therapist has said he needed to do that to get his legs stronger. Well the poor little guy couldn't step up those stairs. He had to use the hand rail and pull himself up one step at a time to help his legs climb. His therapist said that was ok as long as he would do it. I remember how hard and how often he would work on those stairs. It was enough to break your heart just watching him. I can remember the day like it was yesterday that our pastor's wife came over for something and B.J. told her watch Sister Ima...and he ran up those steps, through the house and out the front door and down two steps there and came running around the house. He was hobbling but he did it. He worked so hard. You have to understand my little guy just never complained. He took what life dished out to him and made the best of it. We're talking about a little tiny 8 year old that didn't weigh but 30 something pounds but he had such faith. To him...life was good. That's why I always said he had a hard life of bad health but he had a good life. He made it good. He had every right and reason to complain yet he didn't.
B.J. was such an amazing little boy. He went from a wheel chair to running "Speed Limit" and we were all so proud of him for never giving up!
Our poor little Buddy. When he was young he walked with a waddle kind of like a duck waddles. We use to sing Weebles wobble but they don't fall down... B.J. wobbles and he does fall down! It sounds mean I know but we weren't trying to be mean. We were helping to remind him to practice not waddling. By the time he was a teenager he Waddled No More!
Our silly boy. Here he is with his two little sisters Kayla and Sarah. He was acting like he was trying to pick the bucket up with Sarah in it. He was a strong little guy and could pick it up but he wanted to act silly here.
One time our family was out going for a walk and we walked past this house that had a great big bull dog at it. We knew the dog was there but it was always on a chain and couldn't reach the sidewalk so we didn't worry when we went by. Well this time B.J. was riding his bike and just as he went past where the dog was at it came charging at him...they had moved the dog closer to the sidewalk and we didn't realize it. The dog jumped on B.J. and knocked him off of his bike and the bike landed on top of him. Thank God the dogs owner was out in the yard and ran over real fast and grab the dog off of B.J. before it could do much too him. He just had a few scrapes on him from the dogs teeth and from the bike but nothing too serious. We told the people we wouldn't press charges on them but we wanted them to keep that dog away from the sidewalk. They took him out to their place in the country and kept him there. B.J. never did get completely over his fear of dogs after that I don't blame him either. It could have been so much worse than it was.
Boys must love to torment their sisters. He would ask the girls if he could play with them or they would ask him to play and it never failed he would pull off their barbie dolls heads and put the clothes on backwards!
For B.J.'s 10th birthday we bought him a BB Gun. We always told him he better not shoot the neighborhood cats and dogs or any people with it. One day he asked me if he could go out into the park at the apt. complex where we lived and shoot a bird. I didn't think he would be able to shoot one so I told him to go ahead. I had tried shooting birds with a BB Gun when I was growing up and never was able to hit one so I thought the birds would be safe with him. I was wrong! It wasn't but a little while till here he came with a bird he had shot and it wasn't all the way dead. Lord I nearly freaked out. I told him to get out there and put the poor thing out of it's misery and to never shoot another bird. LOL He probably thought I had lost it. I don't know if he ever shot another one or not but if he did...he didn't tell me!
B.J. went to 6 Flags over Texas when he was 10 years old. While there he played the game where the guy guessed your age and had to come within a year or so of it. B.J. was 10 but he only looked about 6 years old so he knew he could play it and win. Well the guy of course guessed him to be 6 and when B.J. told him how old he was he didn't want to believe him so he asked us how old he was and what year he was born. We answered that he was 10 years old and was born in May 1984. We then went on to explain to him that B.J. had kidney trouble and that for 4 years he didn't grow. I don't think the man really believed us but he gave B.J. the prize anyway. It was a big blowup hammer. B.J. thought it was too funny and so did we.
Here B.J. is riding the carousel with his Dad. Poor little guy had to sit sideways on it because his hip wouldn't swivel so he could open his legs far enough to sit on it the right way. It didn't stop him from enjoying it though.
We use to call B.J. and his little sister Kayla and their cousin Daniel the 3 Musketeers. They always wanted to do everything together. So often if you saw one...you saw them all. One time the boys decided they wanted to ride their bikes out in the country. The only problem was is they weren't allowed to. Well this day they decided they wanted to anyway but what they weren't realizing is that by letting Kayla go with them they made a big mistake. She ended up telling me all about their adventure and boy did they get in trouble! She wasn't meaning to get them in trouble...she was just sharing about the fun she had. Those silly boys never made that mistake again and if they did I have yet to find out about it.
For B.J.'s 12th birthday he wanted to have a Treasure Hunt so we put $10.00 worth of quarters in a bucket full of mud and let him have a "Treasure Hunt". He sure had fun with his sisters and friends finding all the money. They helped him find it but he got to keep it all. What a muddy mess they were but they had fun doing it.
B.J. made this Father's Day card for his Dad in Sunday school.
I have no idea who's underwear B.J. and Daniel put on but they were big enough for both of them!
B.J. was forever coming up with something to make us laugh. This time it was fighting with Marvin the Martian over his hat!
When B.J. was around 14 or 15 years old he was going to show us he could jump rope. You have to understand that because of all the health problems he had he use to not be able to get both feet off of the floor at the same time so to be able to jump rope was a big achievement. Well, he jumped and caught both of his feet with the rope and fell flat on his face! After we knew he was alright we laughed long and hard. We never did let him live that one down. It was just too funny!
B.J. got an early start singing specials at church from the time he was probably 6 years old. It paid off and when he turned 14 years old he joined the Praise and Worship Leadership and sang on the platform until he went to Heaven at the age of 19 1/2 years old. He absolutely loved to sing and he used his talent to worship the Lord.
These pictures were taken in March and May of 1999. B.J. had been in the hospital two different times for surgeries. Just look at the smile on my Buddy's face! B.J. was always so pleasant.
Just a few days before B.J. turned 15 years old he had to start having peritoneal dialysis. His nurse that was in charge of training him and his care was a Porto Rican lady name Carmen. Her English was fine but she didn't always know the right way to say things. One time she was talking about something (I can't remember what) and she said "White people do do that". Well B.J. and his cousin Daniel just lost it! They thought that was so funny! I kept trying to get them to stop but they just kept right on repeating it over and over...white people dodo that...white people dodo that and laughing like they didn't have good sense! Carmen could only shake her head and roll her eyes. I don't think she ever did figure out what they thought was so funny. Anyway, I was taking pictures and B.J. told me to take one of him in the bathroom cause "White people dodo that"! That crazy boy of mine, as you can see he went in the bathroom and poised by the toilet! B.J. was still with us for another 4 1/2 years and he would still out of the blue sometimes say in response to something that was said..."White people dodo that"! He's been gone for almost 5 years now and I can remember many times since he's been gone that someone in our family will right out of the blue say..."White people dodo that"! Oh that boy, what a memory to leave us! LOL
It didn't matter what difficulties life dealt B.J. he always kept a smile on his face and joy in his heart. These picture were taken on or around his 15th birthday that he spent in the hospital. That's just the way our son was. Give him Lemons and he would make that Lemonade and share it!
B.J. got a raft of his 15th birthday when he was in the hospital in Austin after having his surgery to start dialysis. His cousin Daniel was staying in the hospital with him and they decided to blow the raft up in his hospital room so they could set in it and pretend they were on the river. Those crazy boys! The nurses didn't say anything about it other than they thought it was funny. They figured it made B.J. feel better so they just let him do it.
B.J. did like Garfield but the reason I chose Garfield is because B.J. loved to sleep when he was young. I guess we all have a little bit of Garfield in us. The picture of him here he isn't really sleeping. If you look close you can see he has his fingers up his nose. He was always so silly!
When B.J. was in the hospital at the end of his Freshman year two of his friends Frank and Johnnie made him a necklace in school. It had his name on it and sports beads. It wasn't so much what teenage boys would wear but because his friends made it for him...B.J. wore it. I've always been so proud of him!
B.J. loved LEGOS when he was little.
Well...he loved playing with them all his life.
In March '00 B.J. got his first car. It was a little white Nissan Centra. It's funny cause he didn't have his Drivers Lic. yet so he didn't even get to drive it. That was ok with Mom and Dad because we were a little (alright a lot) worried about him driving in case he had seizures again. Thank the Lord he never did! He was more than happy when he got his Lic. and got to start driving. Then it was watch out world here comes Mr.Cool! Not long after he got his drivers lic. he went out driving by himself and in a little while he called home and needed us to come help him get his car unstuck. When we got to him we found he had driven his car behind the Elementary School and bottomed out and couldn't get it unstuck. He said he was just driving around back there to see what all there was to see. The crazy boy...he decided that wasn't the place to take his little car!
Since B.J. had kidney trouble there was no way he could ever join any of the armed services but he, like most young boys had his dreams of serving his country. Well one day he got this little coupon deal that you could send off and get some kind of free medallion from the army and he wanted one. So he sent it off and was happy when it came in. Well by doing that they had his name and address and guess who showed up on our door step to visit with him? You got it...an army recruiter! It was too funny! When the guy asked to talk with B.J. here he came out on our front porch hooked up to his dialysis exchange bags. For anyone that doesn't know what peritoneal dialysis is like...it has two bags...you connect the hose to the outlet hose on your abdomen and drain the old solution out (it's yellow and looks just like...well you know what your kidney's produce) and then you put the new solution in. So here goes B.J. connected to his bags out on the porch carrying the good solution that he's in the process of putting in him and dragging along his pee bag! You should have seen the look on that recruiters face! He asked B.J. what it was and he told him! He told B.J., I'm sorry but with you having kidney trouble we can't let you join the army. B.J. told him I know...I just wanted the free medallion! He came back in the house just grinning. He thought that was just too much fun! He definitely had a sense of humor all things considered. He never did get to join the army but he was always a soldier in the Lord's army and a good one too!
B.J. was hilarious when he would get on his knees and pretend to be a midget. He just kept us rolling all the time. He even got his little sister Sarah to join in the fun with him often. That boy of ours was an absolute nut and we loved him just the way he was.
B.J. had brittle bones because of all the health problems he had so he wasn't suppose to do anything that might cause him an injury. Riding a bike is one of the things he "was not" suppose to do as for as his doctors were concerned. But...we let him anyway because we wanted him to have as normal a life as possible. We did want him to be careful but we were not going to take his childhood away from him. Well, one day he came in the house and he was scratched up all over his body! That goofy kid had been riding his bike and pulling his little sister Kayla on an old race cart they had. They had been in the road but when he pulled into the yard her cart hit the sidewalk and came to an abrupt stop. Well the only place for B.J. to go was over the handle bars of his bike and into my rose bush! Like I said the poor kids was scraped up all over. Now you would think that that happening one time would be enough for anybody right? Not B.J. he ended up doing the very same thing again later! Oh that boy of ours, he sure did enjoy living!
As I've already said, B.J. kept us laughing all the time. He was always coming up with silly things and so many times we would tell him to stop cause we were already laughing so much. One of those many times he made the comment...Just call me Butter I'm on a Roll! Needless to say it just made us laugh more and from that point on I called him "Butter" often.
B.J. drew this funny little guy for his Dad when he was a teenager. His Dad has kept it and now it is framed and on display for all to see it when they are in our home.
That silly boy of ours. Sometimes we would leave him in charge of taking "care" of his two little sisters Kayla and Sarah. More than once he would talk Sarah into letting him and Kayla tie her up in a little chair of hers and tie her to a post that was in her room. Then he would tell her if she told on them he would do it again next time. She always told, he always got in trouble, and he always did it again! The nut!
B.J.'s cousin Daniel did a finger painting of B.J. He used the little picture that is seen here with it. I think he did a great job. B.J. loved it and kept it hanging on his wall. I've since framed it and will keep it always.

In July of 2000 the Make A Wish foundation gave B.J. his wish to go to King Mountain Ranch in Granby Colorado. Our whole family went for a week and his favorite cousin Daniel got to go with us. He got to be a cowboy for a week. They treated him like a king and he loved it!
When B.J. was probably 16 years old he called me into his bedroom one night and told me to listen what was being talked about on the radio. It was my daughter Amanda (B.J.'s older sister) age 17 and her boyfriend having a conversation. He said Mom I thought at first they were on the phone with the radio station for some kind of talk show but they aren't. For some reason their conversation is just coming over the radio. It was too funny, I told Amanda she better get off of the phone because B.J. was listening to everything they said and wouldn't it be terrible if others were hearing it too? It was funny because B.J. listened for 10 or 15 minutes before he said anything. I always told him I had to wonder if it was (brother watching out for sister) or (little brother hoping to find something to blackmail big sister with). All he would ever do is grin and say he didn't do anything wrong.
Those crazy cousins! Our girls talked B.J. and Daniel into dressing up and letting them take pictures. They took turns being the man and woman. We lost the film and never got the pictures developed until after B.J. went to Heaven so he never got to see them. I can just imagine what he must be thinking of his Mama putting these on here for everybody to see! Knowing B.J. he's just still laughing!
B.J. made this throw pillow when he was a Sophomore in High School. He was in a Home Ec. class and had to make something so this is what he decided on. I've slept with it ever since he's been gone.
B.J.'s Dad and I bought B.J. an Uncle Henry pocket knife when he was 16 years old. It was the first nice knife he ever owned. The summer after he got it he was out with the boys from our church on a fishing trip. While they were there some of the boys started chasing armadillos and trying to catch them by throwing a towel on them. While they were there they saw a deer close by and B.J. started chasing it. That silly boy of ours knew he couldn't run fast enough to throw his towel over the deer so he threw his knife at it. Needless to say the deer got away and B.J.'s knife was lost and gone forever. We never let him live that one down. So the moral of the story is...never go deer hunting with a pocket knife...it doesn't work so well.
I remember one time we went camping and B.J.'s cousin Daniel went with us. They decided they were big boys and were going to get their own camp site off a little ways from ours. They got everything set up and were having a good time when all of a sudden they heard some kind of cat make an awful noise. They came running to tell us and were saying it was a bob cat. Daniel was scared and B.J. was trying really hard to show us he wasn't scared at all. Daniel wanted to move their tent to our camp site but B.J. didn't want to. They finally moved it a little closer and I think both of them were glad but B.J. kept saying he didn't want to. We always laughed at them and would tell them all they heard was a house cat but they kept insisting it was a big cat of some kind. We never did let them live that one down.
B.J. and his Dad love TAZ! And one of B.J.'s favorite saying was Wazzup?!!
For the longest B.J. wanted one of those talking fish. We finally got him one and he loved it. He liked to move it from one place to another so it would catch people off guard and scare them when it started talking.
When we would have corn dogs for a meal I would always ask B.J. how many he wanted. He would always tell me he wanted one. I would then tell him that one wasn't enough so he would say he wanted three. Then I would tell him that three was too many. By that time he would be frustrated and say if you're going to fix me two anyway why do you ask me every time? LOL I would always laugh at him and tell him I was "trying" to teach him something and he just wasn't learning. We did this every time we had corn dogs and it became something that was just expected to happen and it did!
One evening B.J. and his friend Henry were out riding bikes and he came home and brought me this really pretty flower called a periwinkle. He told me he found it and pulled it up by the roots so I could plant it and let it grow. It didn't have a bit of dirt left on the roots. I asked him if he stole it from someones flower bed and he said no...it had been growing out of a crack between the sidewalk and the street. I said B.J. it's not going to live because you pulled it up and didn't leave the dirt on the roots so it's going to shock it and it'll die. He just said oh Ma...you can get it to live. Well I planted it in a little flower pot and it lived! It made a good size plant and bloomed lots and lots of blooms. He just said...I knew you could make it grow. I loved that plant, and I love my Buddy that gave it to me.
Remember I started calling B.J. "Butter"? Well one night I told him good night "Butter" and he said night "Syrup" It caught me by surprise but I loved it! From that time on it was how we said good night every night. We were like "Syrup" and "Butter", we were just meant to go together!
The Youth from our Church was always making Peanut Brittle for a fundraiser. B.J. was always there to help. It's never quiet the same now with him not there.
The biggest picture here was taken in Feb.'03 after B.J. graduated from High School in May of '02. The other pictures are some of his Senior pictures. I think my Buddy was so handsome!
B.J. had 3 friends that he counted as his best. One was his cousin Daniel. Then there was Henry and Poncho. But I can't leave out his little sister Kayla. Her and B.J. were more than just brother and sister...they were very close friends as well that did almost everything together.
What a special young man our B.J. is. We miss him more with each day that passes. Oh what a day it will be when we get to spend forever with him!
B.J. had to work extra hard to get through school. He missed so many days and had so many health problems to work around. But... OUR BUDDY DID IT AND WE WERE AND STILL ARE SO VERY PROUD OF HIM!
It was so funny, B.J.'s Dad threw a tennis ball at B.J. just after he got his diploma and was coming off of the football field. B.J. just smiled and kept right on walking like nothing happened. He didn't go back for the ball until after everything was over.
B.J. use to help me with children's church at our church and I made him and my other kids stick horses to ride. B.J.'s was made out of a mop and he named it Prince. Several years later he was helping someone else with children's church and out came Prince for him to ride. He was 18 years old at the time! LOL Well I think it could only happen to B.J. That mop horse bucked him off and hurt his leg! Actually he tripped himself while prancing around on Prince. Anyway we picked on him all the time telling him that he was the only person we have ever known that had gotten bucked off of a stick horse! As usual he took it in stride. Poor B.J., it took going to Heaven to get his leg healed because it never did heal here during the year and a half that he was still here.
Just more pictures of our wonderful son...
One time I made this silly horse head to use in children's church. Two people got under a light blue sheet and one person held the head while the other one was the tail. One time B.J. and his little sister got under it and went walking down the sidewalk down our street. All the football boys were outside practicing and lots of people drove by. It was so funny watching them. I stood out in the yard and laughed at them. It was so fun!
About a year before B.J. went to Heaven he was up in our attic helping his Dad do some work. Well, his Dad lost his footing and fell through the ceiling in our bedroom and was caught hanging there. When it happened B.J. threw down the hammer he was using and hurried and made his way to his Dad to help him before he ended up dropping the rest of the way through and getting hurt even more. All things said and done the hammer was forgotten about but there were times later that his Dad wondered where his hammer was. About 2 years after B.J. went to Heaven Bobby was back up in the attic and found his hammer. Oh the special memories that came flooding back of a Father and Son working together and of a Son that loved his Dad and hurried to help him when he needed him to.
B.J. and his brother and sisters always loved each other. Oh there were times they fussed and argued like all brothers and sisters do but the love was always there and was always quick to be shown to each other.
One of Sarah's favorite memories is the time spent with B.J. when he would make cheese fries for her and Kayla and himself and they would spend time together talking or playing something like monopoly.
B.J. made this Yellow Rose for me out of play dough when he was a teenager.
Some of the meanings of the Yellow Rose is...Joy, Gladness, Friendship, Delight, I Care, Promise of a New Beginning, and Remember Me

B.J. brought much Joy into the lives of all that knew him. He was filled with Gladness and it always showed in his life. He was a Friend to everyone and to me he was my Best Buddy. He was a Delight to my heart and always will be. He Cared about everyone and he wasn't afraid to show it. Since going to Heaven he has the Promise of a New Beginning and there is no way that I or anyone else that knew him could ever forget him. He will be loved and Remembered forever.
There is so many different things in life that has memories of B.J. tied up in them. Here are just a few!
That nutty son of mine...One time the dentist office called to set up a teeth cleaning appointment for B.J. Well B.J. was the one that answered the phone and the lady thought it was me and called him by my name (Cindy). He just kept right on talking to her as if he was me and never let her know any different. He thought it was big fun letting her believe he was me. I told him well Buddy, it's because I have a deep voice...not because you have a feminine one. He didn't care either way, he just thought it was funny! We did sound so much alike on the phone, people always got us confused.
B.J. loved the 4th of July. He liked to buy fireworks and pop them for his sisters and he loved to go camping too.
B.J. started working at SNT with his Dad in July of "02 right after he graduated from High School. He worked with him for the next year and a half until he went to Heaven. He was always a good worker...a son his Dad was always so proud of!
Oh B.J.'s Glitter Bug! It was awful and he loved it! Of course he didn't call it his Glitter Bug but I did. You could see that boy coming a mile away! It was 4 different shades of boat paint orange that glittered. Definitely one of a kind just like B.J.
The last Christmas program B.J. was in at our Church in Dec.2002 he was and angel. I thought he looked awesome! I'm so glad I got a picture of him. I know we don't die and become angels but we will be saints in robes of white when we reach Heaven and this picture helps me see it in my minds eye. I had a dream one time of B.J. about 21/2 years after he left and he was dressed in white. What a wonderful site he was to see!
B.J. loved to listen to Kirk Franklin's songs. I remember his last Christmas with us in '02 that was all he would tell us he wanted for Christmas was this CD...whatcha lookin 4. He could have just bought it himself but he didn't. I will forever remember the look on his face when he opened it. You would have thought we gave him the best gift ever. He was so funny and so easy to please. We have that Christmas recorded on video...I'm so glad we do. Little did we know it was the last Christmas we would have with B.J.

B.J. never ate very much candy but when he did he liked Hershey's Milk Chocolate Bars!
B.J. had always wanted a little brother and in December of 2001 little Johnathan was brought into our lives and then in March of 2003 he officially became B.J.'s long awaited little brother. Of course he was already his little brother from the beginning but in Marh is when it became legal through adoption.
One time B.J. was holding Johnathan and together they were half laying half sitting in a laundry basket and I heard him ask Johnathan...What do you call a boy in a basket? Then he gave him the answer...a basket case! LOL He was a basket case and we loved him just the way he was!
B.J. loved to go camping on the Colorado River. He use to go hiking up in the cliffs and see just how many gray hairs he could put on his Mama's head! He would get so high up we would have to us binoculars to find him up there. Scary!
On May 6th 2003 B.J.'s Dad Bobby gave B.J. a very special gift. He gave him one of his own kidneys in hopes of giving B.J. a better quality of life. For nearly 7 months it did. B.J. got to enjoy a freedom he had never had and he loved it. What a special bond it formed in them. Oh how his Dad loved him and wanted him to live a long wonderful life!
The Gift of Life...
This is were B.J. had his kidney transplant done.
This is the last Mother's Day gift B.J. bought for me. He was in the hospital then just having had his kidney transplant. He wanted me and his little brother Johnathan to go with him to the gift shop and he picked this out for him and Johnathan to give me for Mother's Day. We also went to the cafeteria and had hamburgers and fries for my Mother's Day meal since he couldn't leave to take me somewhere else. To me it was perfect and a special time spent with him that I'll always cherish.
One of the times that B.J. was in the hospital after having his transplant I bought some of the bubbles that don't pop easy to help keep Johnathan entertained. Well, I decided B.J. needed some in his hospital room so I blew lots and lots of them for him. He thought they were pretty cool because when they landed they didn't pop so his room just sparkled with little bubbles everywhere. As it turned out I had to leave for a little while and the doctor showed up to check on B.J. and he got some kind of mad. When I came back B.J. told me and he thought it was funny. I told him I was sorry he had to listen to the doctor gripe over something I had done and he told me it was alright...his doctor needed to just lighten up a little cause those bubbles weren't hurting anyone. B.J. was always a good patient but sometimes that doctor sure tried to rub him the wrong way! LOL
B.J. loved Dr Pepper. That was one of the good things that came from having his transplant. He could drink all the Dr Pepper he wanted and he did! Before his transplant he was limited to a very small amount.
The summer before B.J. went to Heaven he bought his little brother some new clothes. The only problem was, Johnathan was still not even 2 years old and the clothes B.J. bought him were way too big. I told him B.J., he won't grow into them until he's probably 6 years old. He just said that's ok...he can wear them then. Now the summer Johnathan is 6 years old...5 years after B.J. bought them, Johnathan is finally able to wear them! I know B.J. must be smiling. Johnathan is so happy to have something to wear now that his brother bought for him.
One time B.J. went with me (to protect me)
when I was getting new tires put on my van. When we were coming home we got stopped at the rail road crossing cause a train was coming. It was funny because both of us without the other knowing was going to count the number of boxcars on it. Well it went like this...1 2 and no more! Both of us jerked our heads at each other at the same time and said that only had 2 cars! We thought it was pretty cool because neither one of us knew the other was going to count them and neither of us had ever seen a train with only 2 boxcars. Like the picture, it was an engine pulling an engine. I never saw another one like it either until B.J. had been gone for almost 4 years. When I did, it was when his two younger sister's were going on an out of state youth trip and I was so upset because B.J. wasn't here to go with them. Well, we were getting everyone loaded up to leave and we hear a train blowing it's whistle at the same crossing B.J. and I had been at and low and behold it was just an engine pulling an engine! It was our sign that B.J. was there to go watch over his little sisters! Since then, every time I hear a train blow it's whistle my heart smiles and I say hi Buddy, I love you.
B.J. loved Lays Brand Potato Chips. But one day he decided he was going to prove them wrong when they say no on can eat just one. He opened that bag and ate just one and would not give in and eat another one out of that bag. He thought he was something else being able to prove them wrong. LOL
Around here a big thing to do is to go toilet papering your friends houses. Needless to say B.J. loved doing it. One of his favorite running buddies was his friend Stephanie. Oh the fun they had together! She told me just recently about what he did to her one time when they were out having their fun. She said while she was still busy toilet papering he went and got in his car and came driving by blaring down on his horn and she got caught! I can just see him doing that to her. LOL
Do boys ever really grow up? Judging by our boy the answer is No! One of my favorite memories of B.J. is during the summer before he left. He was lying on the couch and I pitched him a pair of his little brother Johnathan's sun glasses and told him to let me see what he looked like with them on. Kayla was recording him with a movie camera and I guess he didn't want to be seen wearing them or just didn't want to put them on. Anyway, I had a little plastic cookie jar and cookies of Johnathan's and I was throwing them across the room at B.J. and every time I'd throw a piece I'll tell him to put em on and he would just laugh and ignore me. When I ran out of anything to throw I told him I was giving him to the count of three and then I was going to come tickle him until he wet his pants. He let me go 1 - 2 - 3 and when I got up to get him he jumped up and ran out the door to get away from me. I thought he was gone and about that time he popped his head back in the door and laughed again and ran back outside. Kayla got it all on tape and I'm so glad she did. I love to watch it and hear his laughter.
I'm crazy I know, but I just had to put some of B.J.'s favorite foods here. After all...it's what my Buddy liked!
Another one of B.J.'s favorites was Pizza. I just bet he never thought his Mom would make him be on one! LOL
B.J. didn't care much for cake so every year he would ask for chocolate pudding pie with cool whip on top in a graham cracker crust for his birthday. On his little brother Johnathan's second birthday which was right before B.J. went to Heaven, he told Johnathan... If you will ask for a chocolate pie on your birthday all the time like I do then we will be guaranteed at least 4 pies a year. One for each of our birthdays and one for Thanksgiving and Christmas. So far that's what Johnathan has asked for and I will make a chocolate pie on B.J.'s birthday and for Thanksgiving and Christmas in his memory for as long as I am able to.
B.J. use to play the song "Melodies from Heaven" by Kirk Franklin and want me (Mama) to do motions to go with it. Over and over he would tell me to do it again cause I wasn't getting it right and over and over I would with him laughing at me the whole time. I knew he was just picking on me but it was so good to hear his laughter.
When B.J. was about 3 years old his Granny took him and some of the other grand kids out and showed them what colici rocks are. She told them that she use to "eat" colici rocks and let them try em out. As bad as that might have been...what was even worse is B.J. would eat all kinds of rocks. By the time we moved back to Goldthwaite when B.J. was 6 years old and I took him to the dentist here the dentist thought B.J. had a problem of grinding his teeth in his sleep. He nearly fell over when I told him no...he eats rocks and it grinds his teeth down! That boy never did completely stop eating rocks. A lot of the time he just sucked on them. The doctor thought it was because his body was craving the minerals in them. Either way, in the 19 1/2 years B.J. was here...he never had a cavity! LOL I think it's because he kept them ground off before they had a chance to form a cavity.
B.J. and his younger sister Kayla use to talk about going to Australia together. B.J. would always tease her and say that he was going to make her eat a kangaroo burger when they went. She would get so upset at him because she loved kangaroos and not because she thought they would taste good! LOL He sure loved picking on his sister. Just an everyday brother!
The summer before B.J. left his little sisters were recording all of us doing the Hokey Pokey. They insisted that B.J. do it too and he didn't want to so he wouldn't cooperate very good with them. Kayla would sing the words and he would just barely move his body parts the way he was suppose to. It was hilarious. When she got to the part to put your head in and put your head out he left his head leaned back and said I can't...it's stuck. Oh that set Kayla off! Then when he was suppose to put his back side in and shake it all about he just barely moved his rear and we all busted laughing. It was just too funny. I have most of it recorded and I love to watch it. I had all of it but I accidentally erased part of it and that makes me sad. But...I still have the funniest part. It was great!
B.J. was always tracing his hand...mostly his left one since he was right handed and then decorating it all kinds of cool ways. He would do other peoples hands as well and none of them were done the same way. Look in the red hand and you can see an upside down heart and the word love made into it. These two pictures of my Buddy's hands are my favorite.
B.J. absolutely loved Chocolate Jello Pudding Cups! I bought so many while he was in the hospital all those times in Galveston. Sometimes he would use a spoon to eat them but many many times he would use his finger. LOL
When B.J. would go on the out of town youth trips he always helped our Pastor's wife keep up with her keys. The ones to the van and the Motel room as well. The last trip he went on with them in August of 2003 he gave her all kinds of fits. He would hide the keys and pretend he didn't know where they were. He always had so much fun on those trips and they always enjoyed having him with them. Sister Mullins told me that when she gets to Heaven she hopes the first voice she hears is B.J.'s saying "Hey Sister Ima, do you have your keys?"

I also remember how excited he was on that trip because he wasn't on dialysis any more and he was able to pack so lite. As excited as he was about the actual trip I think he was even more excited about that. He was always so thankful even for the little things in life.

On that same youth trip they had gone out to eat at the Rain Forest Cafe. While they were there B.J. told Sister Mullins that another young man that was with them had told him that he thought B.J. was sexy. Well Johnnie hadn't said it and of course he was protesting what B.J. was saying. B.J. was laughing so hard tears were dripping off of his face. The more Johnnie would protest the more B.J. laughed and the more he laughed the more everyone else did. I wish I could have been there but I know how B.J. loved to laugh and loved to make people laugh so I can imagine what it was like.
The last time we had taken B.J. for a doctor's appt. in Galveston we were on our way home and B.J. and his Dad were playing the "windmill game".
That's where they see who can find the most windmills. I hated playing because I could never spot them first. Well they decided they were going to team up "against" me and I was refusing to play. I kept telling them to stop so they would say things like...there's one of those things with blades that turn but I'm not saying what it is. Or...there's one of those things we're "not" looking for and such as that. They were making me crazy! Well I couldn't do too much to Bobby since he was driving but I unbuckled and turned around leaning over the seat and started tickling B.J. He was laughing so much but wouldn't stop. I told him I was going to tickle him till he wet his clothes (he was always very ticklish) so he jumped up and jumped into the back seat so I couldn't reach him. Oh his laughter, I miss it so much!
We have a rule at our house that says curfew is at midnight unless otherwise told and if you aren't home by then you better call with a very good reason or you get locked out for the night and get to sleep in your car...and you better not leave the house! Well one night B.J. was out with his friend Henry and I guess he thought he would see if I meant it. He came dragging home a little after midnight and I was waiting for him. He puts his little key in and turns the lock to come in the house and the door wouldn't open. I was sitting in the floor in front of the door and he couldn't open it! I waited to see what he would do and he just went and sat down in the swing in the yard and did nothing. After a few minutes I went ahead and let him in and he got to listen to me gripe. He never did come home late again. I think he was afraid he would get to sleep outside if he blew it again...and he would have. I figured everyone was entitled to make a mistake once. B.J. was a good boy and a fast learner.
Revenge...how sweet it is! On that same trip to Galveston when B.J. moved to the back seat so I couldn't reach him I got even! I had been on my feet all day and they were hurting so I pulled my shoes off. It didn't take but a minute for B.J. to asked "Who's stinky feet do I smell?" Now normally I wouldn't share this kind of info but like I said Revenge is Sweet and the memory of it is worth the embarrassment of stinky feet.
I said B.J. my feet hurt and he said well they stink so put your shoes back on. I put them back on for just a few minutes then slipped them right back off again. From the back seat came MA PUT YOUR SHOES BACK ON! Did I listen to him? NO I DIDN'T!
When B.J. was a teenager the Youth from our Church would decorate the trees around our Court House with lights for the Christmas Season as a fund raiser for their Youth trips during the month of November. The last year they did it before B.J. left I went down and helped them. Oh it was awful! Birds would roost in those trees so you can just imagine what it was like crawling up in them to hang those lights. Well there's this silly song we use to sing when B.J. was still here about a man singing at an outside Church Revival. While he was singing a bug flew in his mouth and he just gulped it down and kept on singing without ever missing a beat. The main course goes like this...
If eating bugs would save a soul,
I'd eat a bunch now don't you know!
Just to baptize a few in Jesus' name.
Well we were not eating bugs that day...it was the bird poop! LOL So me and B.J. starting singing our own version of the song like this...
If eating bird poop would save a soul,
I'd eat a bunch now don't you know!
Just to baptize a few in Jesus' name.
What fun we had entertaining everyone else while we worked.
B.J. was so silly. He could put a quarter in his nose sideways without any trouble at all and thought it was funny to do it. I use to get onto him all the time and tell him "boy you're gonna stretch your nose out too much one of theses days!" He wasn't too worried about it cause he kept right on doing it. If you asked him how in the world he could get a quarter to fit he would just grin and say well...you start out with a dime, then move up to a penny, then a nickel and then a quarter! It makes me wonder sometimes just how far he would have taken it if he were still here. I probably don't want to know the answer to that one! I can just imagine the entertainment everyone in Heaven is getting from that boy of mine!
I remember how B.J. use to come in the kitchen especially during his last 6 months or so and help me when I was cooking supper. So often he would set the table and make tea and take up ice too. I'd tell him it wasn't his job and to leave it for the girls but he'd just say oh I don't mind helping. I have to wonder why he's the only one of my kids that didn't mind helping. I miss that time together.
I also miss how he always told me thank you after a meal and would tell me how good it was. Such a nice little guy...no matter what it was he would thank me and tell me it was good.
B.J. had more faith in the Lord than anyone I have ever known. He had so many hard knocks that came against him and yet he always trusted in Jesus. He told me one time that if going through all he went through was what it took for him to make it to Heaven then it was all worth it. When my faith would be low he would remind me to use my faith. The times I would try to tell him I had no faith he would say yes you do Mama, you just need to use it. My son made me so proud all the time.
I know if B.J. could tell us anything one of the things he would say is "Keep your fork the best is yet to come".
Better than any dessert we could enjoy!
B.J. this made me think of you. I can only hope one day my Quilt will be as beautiful as yours.

I love you Buddy...

Love, Mama



The Quilt

As I faced my Maker at the last Judgment, I knelt before the Lord along with all the other souls.

Before each of us laid our lives like the squares of a quilt in many piles; an angel sat before each of us sewing our quilt squares together into a tapestry that is our life.

But as my angel took each piece of cloth off the pile, I noticed how ragged and empty each of my squares was. They were filled with Giant holes. Each square was labeled with a part of my life that had been difficult, the challenges and temptations I was faced with every day of my life. I saw hardships that I endured, which were the largest holes of all.

I glanced around me. Nobody else had such squares. Other than a tiny hole here and there, the other tapestries were filled with rich color and the bright hues of worldly fortune. I gazed upon my own life and was disheartened.

My angel was sewing the ragged pieces of cloth together, threadbare and empty, like binding air.

Finally the time came when each life was to be displayed, held up to the light, the scrutiny of truth. The others rose; each in turn, holding up their tapestries. So filled their lives had been. My angel looked upon me, and nodded for me to rise.

My gaze dropped to the ground in shame. I hadn't had all the earthly fortunes. I had love in my life, and laughter. But there had also been trials of illness, and wealth, and false accusations that took from me my world, as I knew it. I had to start over many times. I often struggled with the temptation to quit, only to somehow muster the strength to pick up and begin again. I spent many nights on my knees in prayer,
Asking for help and guidance in my life. I had often been held up to ridicule, which I endured painfully, each time offering it up to the Father in hopes that I would not melt within my skin beneath the judgmental gaze of those who unfairly judged me.

And now, I had to face the truth. My life was what it was, and I had to accept it for what it was. I rose and slowly lifted the combined squares of my life to the light.

An awe-filled gasp filled the air. I gazed around at the others who stared at me with wide eyes.

Then, I looked upon the tapestry before me. Light flooded the many holes, creating an image, the face of Christ. Then our Lord
Stood before me, with warmth and love in His eyes. He said, "Every time you gave over your life to Me, it became My life, My hardships, and My Struggles. Each point of light in your life is when you stepped aside and let Me shine through, until there was more of Me than there was of You."